Great night for the baby bombers
Brett Gardner, who had been displaced in center field by walk-off king Melky Cabrera, re-established himself last night as a force to be reckoned with at the top the Yankees lineup. The former Thunder center fielder went 5-for-5 with three singles, a triple and a home run as the Yanks pounded the Mets, 9-1, at Citi Field.
Similarly, Ramiro Pena, who just last year was manning shortstop at Waterfront Park, went 3-for-5 with a pair of doubles, two runs scored and an RBI.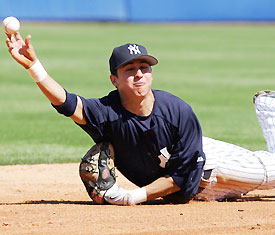 Francisco Cervelli couldn't keep the pace, however, and turned in an 0-for-5 performance.