Malec released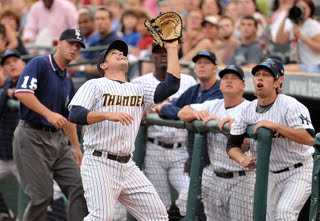 As per Mike Axisa of River Avenue Blues and Donnie Collins of the Scranton Times-Tribune, former Thunder infielder
Chris Malec
was released today by the Yankees. Last year's Fan Favorite Award winner, Malec hit .272 with nine home runs and 69 RBIs. He also scored 50 runs and clubbed 24 runs.
Even if his numbers didn't earn him the ultimate prize, Malec was a good guy who will always be remembered as one of the nicer, more fan- and media-friendly players to come through Waterfront Park. He met every question and every autograph request with the same zeal and thoughtfulness.
There were rumblings around the clubhouse toward the end of last season that he wanted to become a coach somewhere down the line, and I'm honestly surprised the club didn't keep him around in a Carlos Mendoza-esque capacity. That is, he'd play some days, but mostly hang around to guide younger players new to the upper levels.
My former colleague Eleazer Gorenstein wrote a
feature
some time ago about Malec and outfielder Colin Curtis, both testicular cancer survivors. The way Malec was able to battle that disease head on leaves no doubt that, whatever his path from here on, success will always be in the offing.
UPDATE:
Yankees Director of Scouting Damon Oppenheimer confirms Malec's release.
UPDATE:
A source confirms that former Thunder outfielder Seth Fortenberry has also been released.
Labels: Carlos Mendoza, Chris Malec, Scranton/Wilkes-Barre Yankees, Seth Fortenberry, Trenton Thunder