Nice words from a high-profile scout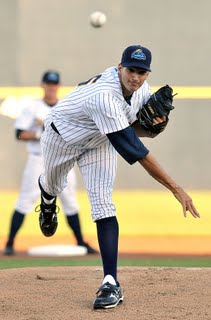 Frankie Piliere, a former Rangers scout and a contributor to AOL Fanhouse, watched Christian Garcia toss five shutout innings while leading the Double-A workgroup the other day in Tampa, Fla.
Garcia, a former top prospect who has had his career derailed by injury after injury, still possesses premium stuff when healthy. He's going to make his third try at Trenton this season, and, if every goes well, don't be surprised to see him chewing up bats in the Bronx by the end of the season.
On the plus side, because he was a high school draftee, all injuries haven't totally blocked his career. He's still just 24, and for all intents and purposes has thrown just 140 2/3 innings since 2006, meaning his arm, while heavily scarred, remains remarkably fresh.
Piliere had kind words for Garcia's stuff: a mid-90s fastball, hammer curveball and changeup, even going so far as to compare his downer to that of A.J. Burnett.
Here's a link to the article
, which also has good things to say about Phillies prospect Phillippe Aumont, who may face the Thunder this season.