Back from Camp, Day 2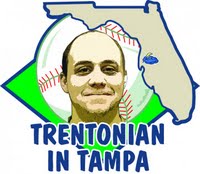 The big news from camp today is that former Thunder players James Cooper and Jonathan Hovis have been cut. Cooper, a ninth-rounder in 2005, spent a combined 133 games in Trenton in 2008 and 2009. During that time, Cooper hit .237 with one home run and 48 RBIs. Mike Ashmore has reported that Cooper has signed with the Newark Bears of the Atlantic League.
Hovis, who appeared in just one game at Waterfront Park last season, went 13-9 during his career, with a 2.15 ERA and 64 saves. However, he was 26, which, for a guy who has barely touched Double-A, probably means the end is near.
Look in tomorrow's issue of The Trentonian for a feature on new Thunder catcher Myron Leslie, who had never caught before this season, and a notebook on today's tie with the Curve.