Good morning from the Doubletree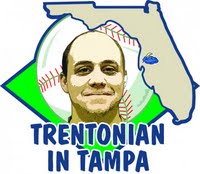 As I sit in my hotel room, waiting to head out to the ballpark for the Thunder's game against Altoona later today, I wanted to give you some notes from the ballpark yesterday.
Against Altoona in Bradenton yesterday, the Thunder did a lot of hitting, but not very much pitching. Here are some of the lines forwarded by Thunder trainer Tim Lentych:

PITCHING
Jeremy Bleich: 4.2 IP, 4 R, 5 Ks
Wilkins Arias: 1.1 IP, 0 R
Grant Duff: 1 shutout inning
Josh Schmidt: 1 shutout inning
HITTING:
Austin Krum: 2 singles
Damon Sublett: Single and run
Marcos Vechionacci: Double and a run
Myron Leslie: Double, 2 RBIs, run
Kevin Mahoney: 2 singles, double, RBI, 2 runs
Ray Kruml: Single, Double, 3 RBIs
Mark Newman had a lot to say yesterday, but perhaps some of the most interesting nuggets were about Andrew Brackman. Unfortunately, because I arrived in Tampa at about 1:00 p.m., Brackman, who had thrown six walk-free innings on Tuesday, had already gone home for the day.
Brackman is still working as a starter, despite ending last season in the Charleston bullpen. The move last season, Newman says, was more a way to control his innings and keep things simplified than anything else.
When I asked him if the Yankees knew there would be a longer time frame for his development than with most other prospects, especially first-rounders, he gave Ian Kennedy, a Yanks first-rounder in 2006 and now the No. 4 starter in Arizona's rotation, as a compare-and-contrasting point.
"Here's a guy who's 6-foot-10, played basketball - so he missed baseball time because of basketball - he didn't have all the fall work, didn't have all the winter work, didn't have all the early spring work. So you've got 6-foot-10, you've got basketball, you've got basketball, you've got injury, so he missed a lot of baseball, so there's a lot of reasons why he wouldn't be able to repeat his delivery.
"Over time, he's going to come to a point where that delivery is repeatable. Once he does, it's an impressive thing to see. He's a very athletic 6-foot-10 guy."
"We took Ian Kennedy in 2006 and we took Brackman in 2007. ... (Kennedy's)the polar opposite (of Brackman) from a draft prospect standpoint. Ian Kennedy moved through the system. He and Joba just went whoosh, went to the big leagues in about a year.
"Kennedy's 6-foot, right-handed, USC, no basketball, a lot of reps. We figured, Ian's getting to the big leagues, Brack's gonna get to the big leagues. We feel good about that. We think Brack's gonna be huge, with top-of-the-rotation stuff."
Newman didn't seem too optimistic that we'd see Brackman in Trenton this season, but also didn't rule that possibility out.
We also spoke about a couple of the catchers in the lower minors, Gary Sanchez and J.R. Murphy, who are drawing rave reviews.
"Sanchez has huge tools, big power. Powerful bat, powerful throwing arm. Murphy doesn't quite have as much arm strength, but can catch and play other positions. And he can really swing the bat."
I stopped at George M. Steinbrenner Field yesterday to pick up my credentials. I went inside for all of a minute, but in that time managed to see Reggie Jackson stroll through the office.
At the minor league complex, I briefly saw Carlos Mendoza, the former Thunder infielder who is now a coach with Staten Island.