Day 3 Wrap Up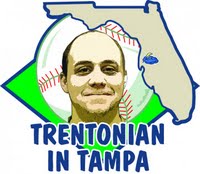 This is going to be quick, but here's a rundown of what I did today and what I plan to do tomorrow.
I interviewed Ryan Pope (check The Trentonian for a feature tomorrow), Brandon Laird, Damon Sublett and Austin Romine. All were very good and well-spoken. Sublett had some interesting things to say about his transition from second base to the outfield, Laird talked with me about facing Stephen Strasburg in the Arizona Fall League, and Austin Romine ... well, you'll just have to wait for his feature in The Trentonian's special section, which prints on April 8, the day of the Thunder's season opener.
Tomorrow I plan to report to minor league camp around 9:00-9:30, as has been the case all week. This time, though, I'm not sure how long I'll be sticking around. One schedule I have says the Thunder are traveling to Dunedin tomorrow to play the Jays again. Another, however, says they are staying in Tampa for a camp day.
There's a Yankees vs. Future Yankees exhibition game across the street at George M. Steinbrenner Field, so that's always an option, if the game features Thunder players.
If I stay at camp, some interview targets will be David Phelps, Pat Venditte and the Thunder coaching staff. More importantly, I will be trying my best to cajole the preliminary roster, which was released today but kept away from the media, out of someone.
That's all for tonight. I'll check back in the morning.
Labels: Austin Romine, Brandon Laird, Damon Sublett, David Phelps, Pat Venditte, Ryan Pope, Trenton Thunder, Trentonian in Tampa