What to expect in the Thunder section and in tomorrow's paper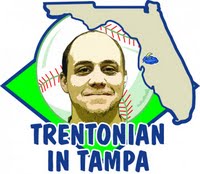 At my second day in Thunder camp, I spoke with Myron Leslie, Jeremy Bleich, David Adams, Christian Garcia and D.J. Mitchell. Leslie is a probable Thunder catcher, joining Austin Romine and possibly Jose Gil. Adams will be Trenton's second baseman, and Bleich, Mitchell and Garcia are all likely to be in the team's rotation come April 8.
In tomorrow's paper, I have a long feature on Leslie and a notebook with bits and pieces from today's 4-4 tie with the Pirates' Double-A work group. On the Web site, there will also be pictures from today's action, as well as videos of the interview I conducted with Leslie, today's starter David Phelps, and Austin Romine working with Victor Valencia in the batting cages.
The interviews with Adams, Bleich, Garcia and Mitchell will more than likely be used in the Thunder season preview section, which hits newsstands on April 8, the day the Thunder open the season.
There's a good chance the roster will be finalized tomorrow some time, so that could be the big news.
I plan to also speak with Tony Franklin (who was at home today in Los Angeles), Austin Romine, Damon Sublett, Kevin Mahoney and Ryan Pope tomorrow. Also, later tonight (once I get done uploading video) I will post some of best (that term is VERY relative) pictures from the day's action.
Also, remember that there will be a Web chat on Saturday night at 8 p.m. wrapping up my short stay in Tampa.
Labels: Austin Romine, Christian Garcia, D.J. Mitchell, Damon Sublett, David Adams, Jeremy Bleich, Kevin Mahoney, Myron Leslie, Trenton Thunder