Good morning from Tampa, Day 3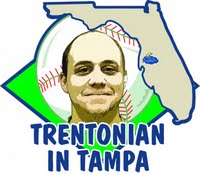 Heading out to the fields soon, so I just wanted to check in before I left. Here's a couple of links before I go try to make the most of my last day in minor league camp.
First, here's my story yesterday on new Thunder catcher/utilityman
Myron Leslie
Second, here's the
notebook
I did with news about two cuts, David Phelps, John Van Benschoten, Casey Erickson and Tony Franklin
Here's a link to
The Trentonian's video page
, where you can find Part 2 of my interview with Leslie (Part 1 is included with the story)and a video of Austin Romine doing catching drills with Thunder coach Vic Valencia.
Reminder, tomorrow night I will be doing a Web chat to wrap up my stay. Stay tuned.
Labels: Austin Romine, David Phelps, Frank Menechino, Myron Leslie, Tony Franklin, Trenton Thunder