About two-thirds of the roster is confirmed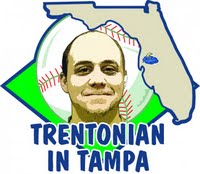 By spending the morning in minor league camp before heading over to George M. Steinbrenner Field for the Yankees vs. Future Yankees game, I was able to get confirmation on 16 of the 24 available spots on the Thunder's Opening Day roster. After speaking with Tony Franklin, Tommy Phelps and a few of the players, here's what I have so far:
C - Austin Romine
2B - David Adams
3B - Brandon Laird
OF - Edwar Gonzalez
OF - Dan Brewer
OF - Damon Sublett
OF - Austin Krum
SP - Christian Garcia (Will start on Opening Day, per Phelps)
SP - Ryan Pope
SP - Jeremy Bleich
SP - David Phelps
SP - D.J. Mitchell
RP - Wilkin De La Rosa
RP - Lance Pendleton
RP - Josh Schmidt
RP - Cory Arbiso
That's 7 position players and 9 pitchers. Given those numbers, here is what I believe the rest of the team will look like:
C - Jose Gil
1B - Kevin Smith
SS - Walter Ibarra
IF - Luis Nunez
RP - Pat Venditte
RP - Grant Duff
RP - Phil Bartleski
RP - Adam Olbrychowski
Of course, there are some surprises here. Pendleton and De La Rosa in the bullpen is an interesting way to turn seven starters into five. Additionally, it gives them a host of guys who can eat up innings should one of the starters get knocked around, or, as happened so often last year, rain necessitates a doubleheader.
The fact that Schmidt is back in Double-A is positively shocking news. He did nothing but dominate last season, and was fantastic in the Venezuelan Winter League. What more can he do to earn a trip to Scranton?
Additionally, Matt Cusick, last year's second baseman for part of the season, will start in Scranton. Cusick called the promotion "a curveball."
That's all for now, but check back later for tonight's Web chat to wrap up my stay in Tampa.
Labels: Christian Garcia, Tommy Phelps, Tony Franklin, Trenton Thunder, Trentonian in Tampa