My Final Morning in Tampa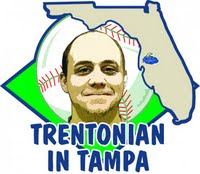 Today begins the last day of The Trentonian's coverage from the site of Thunder spring training, in Tampa, Fla. As I mentioned last night, I am not quite sure where I'm going to wind up today. I could be at George M. Steinbrenner Field for the Yankees vs. Future Yankees game. I could be back at the Player Development Complex, on Himes Ave., where I have been for the last three days. I also could wind up hopping a bus for Dunedin, if the Thunder are playing there today.
I seem to have received two versions of the schedule, so my day is a bit up in the air. In any case, the major goal of the day is to find that preliminary roster and get it out there. I know it was released yesterday, so it's only a matter of asking the right people.
I also hope to sit down with Pat Venditte, David Phelps, Tony Franklin and other future Thunder players. That's all for now, keep tabs with me on Twitter under the handle jnorris427.
Also, check back tonight at 8 p.m. for a Web chat chronicling my time here.
Labels: David Phelps, Pat Venditte, Tony Franklin, Trenton Thunder, Trentonian in Tampa