Working hard to get the full roster
Good morning, everybody.
After a long night of sleep after a long day of travel back from Tampa (someone should have told me before I got up at 3:15 that the Tampa Airport gates don't open until 4:30), it's back to work.
Today's main goal will be acquiring and posting the roster. I know it's out there, it's just a matter of pestering the right sources long enough. This, fair readers, is what I will do for you.
Like I said on
Saturday night
, after confirming about two thirds of the roster, I expect the rest of the team to shake down this way:
C - Jose Gil
1B - Kevin Smith
SS - Walter Ibarra
IF - Luis Nunez
RP - Pat Venditte
RP - Grant Duff
RP - Phil Bartleski
RP - Adam Olbrychowski
That said, it wouldn't surprise me if Nunez or Ibarra were replaced by Marcos Vechionacci, or two of the relievers were replaced by Wilkins Arias and Noel Castillo, especially considering both of them spent the entire camp with the Double-A work group.
Until the roster comes out, however, here's a few more pics from the trip to tide you over (I took 524 pics down there, according to my camera). Clockwise from top, Ramiro Pena signing autographs, Andy Pettitte lounging in the bullpen, Justin Snyder talking things over with Jody Reed, and Tony Franklin throwing BP.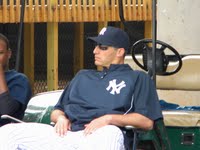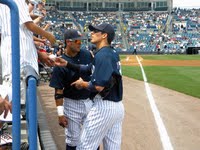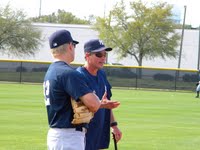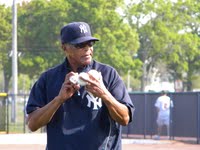 Labels: Adam Olbrychowsi, Grant Duff, Jose Gil, Justin Snyder, Kevin Smith, Luis Nunez, Marcos Vechionacci, Noel Castillo, Pat Venditte, Phil Bartleski, Walter Ibarra, Wilkins Arias